January 19th 2004:
Amy Chan Sau Man and Ma King To days ago worked on a pig cage water torture scene for their ATV series OI JOI YAU CHING TIN (LOVE IN HEAVEN WITH LOVE or LOVE IN A MIRACLE). In the show Chan Sau Man is the surrogated mother for the married Ma King To. Finally they are accused of adultery and have to drown in pig cages. They have a passionate kiss scene on a single bed. The producer and Ma King To exposed that Chan Sau Man said after seeing the bed, "Size isn't important, technique is the most important." However Sau Man swore that she has never said that.
February 4th, 2004:
Claire Yiu Ka-Lei and Christine Ng Wing-Mei attended a promotional event for a lingerie shop yesterday ... Veteran actress Lee Heung-Kam invited Amy Chan Sau-Man and others in the cast and crew of ATV's OI JOI YAU CHING TIN (LOVE HAS ANOTHER DAY or LOVE IN A MIRACLE) for a three-table banquet the night before last to celebrate the Lunar New Year. As Yammie Nam Kit-Ying spent several days on the set shooting a guest role for the series, Amy Chan was asked if she noticed anything untoward while working with the troubled actress. Chan: "I didn't have any scenes with her. The only time I saw her was when we were shooting the poster but we didn't get a chance to talk. She seemed fine when I saw her."
MARCH 23, 2004:
Amy Chan Sau Man and Chan Chin Pang yesterday worked on her new television series' theme song. She revealed that in the show they will have an older woman younger man affair. While they shot an intimate scene, Chan Chin Pang was shaking when holding her. Sau Man calmed him down like she would with a child, "Don't be afraid, many people have embraced me already!"
Amy Chan Sau Man and Benny Chan Chin Pang finishing their themesongs and subs for Love In A Miracle (Cantonese). Benny Chan sings the sub song later in the evening. After that the two recording the themesong again in Mandarin.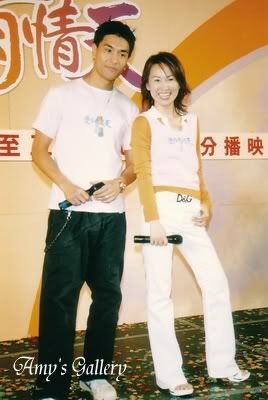 Amy Chan Sau Man and Chan Chin Pang were performing their themesong LIAM together. After that, audiences requested them to sing another random song, Amy wasn't prepare, she was nervous and therefore she had to 'stared' at the lyrics and depended on the words. Chin Pang did a good job carried through the whole song. Amy blamed herself for not prepared well enough and she left early after the performance with out trying any food...