MAY 23rd 2004 :
Amy Chan Sau Man and Steve Ma Jing Tao recently has promoted their ATV series. Two nights ago they appeared on a radio interview. He grabbed her hand and surprised her. "I wasn't surprised. Last time he picked me up and spun me around. On certain level I am pretty shy, but he and I have already worked together since 96. In this series we have many more love scenes." At yesterday's promotion, while blindfolded Sau Man and Ma Jing Tao played fruit identification games and producer Yeung Siu Hung played a trick on them and almost made them kiss. Ma Jing Tao said, "If I knew about it, I would have taken the chance to kiss her." Sau Man said, "I knew Yeung Siu Hung didn't have good intentions. I will be careful. He isn't too great with his practical jokes."
MAY 24th 2004:
Amy Chan Sau Man, Chan Chin Pang, Ma Jing Tao, Lee Heung Kam and others promoted their new ATV seriest yesterday. Yammie Nam Kit Ying due to a headache could only meet up with the artists later. When the producer jokingly told her to "sit" she responded, "Shut up!". She was also alert against the press. When reporters change angles to shoot, she suspected reporters were trying to get accidental exposure pictures, "Don't be such a dirty man!"
Articles and Photos are courtesy of Sing Tao Daily, Next Media, Apple Daily, Ming Pao Daily, Oriental Daily, the Sun and Ta Kung Pao. All Rights Reserved.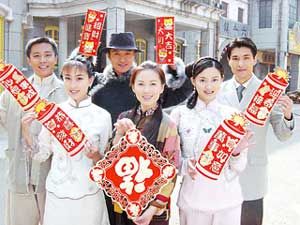 love in a miracle promotion
steve ma, amy chan & chan chin pang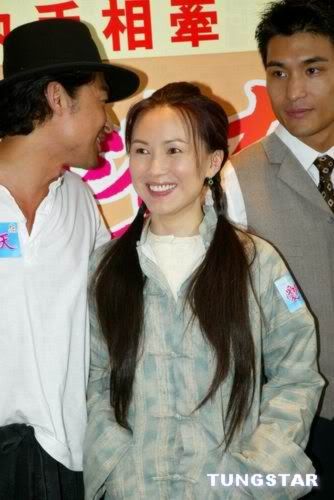 love in a miracle promotion