Some of Amy's famous series:
Among these she is mostly known for The Good Old Day as Sau Hau:
THE GOOD OLD DAYS:
· Chinese: 再见艳阳天
· Cantonese: Joy Gein Yein Yeung Tien
· Vietnamese: Ngày Mai Troi Lại Sang (Loạn Thế Tinh Thu)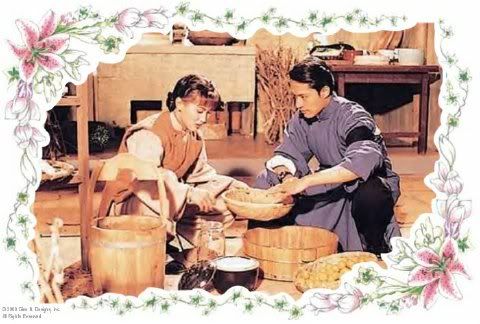 INTRODUCTION:
The Good Old Days centers mainly on moral values, families and friendships. Its setting takes place in the 1930s, throughout the war among China and Japan. The series portrays the love between a man and a woman, who's love conquer even death.
CAST:
Amy Chan Sau Man
Gilbert Lam Wai Sai
Steve Ma Jing Tao
Sheren Teng
Maggie Siu
THEME SONG:
Main theme I sung by Amy Chan Sau Man
Main theme II sung by Amy & Mak Chi-Kit
SUMMARY:
In the year 1930, the war between Japan and China is at peak. Millions die! Thousands loose their home and family. Steven Ma, an intellectual-well educated young man, is born from a rich family with high political morals. He meets his first lover at a Medical School. They engage and are ready for a blissful marriage. Sadly, during a revolt, she dies while trying to save his life. He then goes on to meet Sheren Tang, whose looks exactly as his first lover. He falls for her.
His mother is ill and to raise the family spirit they arrange a marriage for him with Amy Chan (the family's house maid). The mother really likes Amy Chan so even though Steven loves Sheren he doesn't want to see his mother illness getting worse so he goes along with the marriage.
At first he doesn't like Amy and treats her very badly but as the series goes on they go through a lot together -.... he realizes Amy is a really good person, whose loves him dearly and would do anything for the him and his family. He eventually falls in love with her. Although Amy is a peasant girl, she foresees his goal as Sheren does not. She knows that her husband is a patriot. She does not stop him from pertain his desires. He joins the army to fight the Japs, thus leaving his wife and family to carry on the family business.
At first the family struggles but with Amy, Gilbert and Sheren's hard work, they manage to keep the family business going, even expanding to Shanghai then to Hong Kong.
One stormy night, Sheren turns up at Steven's home. Amy Chan, being the kind and understanding wife, accepts Sheren (whose is four months pregnant) in the family as Steven's second wife (even though the guy isn't even around). Gilbert Lam (Steve's younger brother-the unwanted child in the family), touches by Amy's gratitude toward Sheren, starts to see her somewhat more than a sister-in-law. To him, Amy has it all: talent, beauty and moral values. His feelings for her enhance day by day. After the downfalls of the family, Amy, Gilbert and Sheren try their best to keep things intact. They sale most of the family's properties and are heading to Shanghai to rebuild the family's status. Since Amy and Sheren are both illiterate, Gilbert tries his best to help. Amy is an intellectual girl, she learns quickly.
The three live together in a small apartment and are happy as friends and family. No-one awares of Gilbert's feelings toward Amy. Years pass by, Amy learns of Steve's death by a comrade (although he is alive, but loses his memories). She still takes good care for Steve's family due to her promises before he left. Sheren and Gilbert stay by her side. Time after time, when Amy accepts Steve's death, Gilbert wants to replace his brother's shadow in her heart. He wants to take care for her, but too afraid to speaks of his intentions. He knows now that he is much in love with her. He shows his concern for her by putting her on top of every thing. When she is sick, he stays up all night. When she weeps, he feels heartbreaking inside. He buys a stone necklace for her. This symbolizes his love. One night, Gilbert is too drunk, he confess and is rejected by her. This pains his heart. He then realizes that he can never replace his brother's place in Amy's heart. He finally sees the truth: he will never have her. So he leaves quietly to Hong Kong at the next twilight.
Whilst in war Steven looses his memory; he meets and falls in love with a nurse, Maggie Sui Mei Kei. After the war they both try and seek Steven's past. Maggie does not know that Steven is already married and has a beautiful seven-year-old daughter.
This is where things gets more exciting & complicate. Steve's real love is Amy, but due to the loss of memory he can't recognize her- thus rejecting her. While Amy is facing a toughest moment in her life, Sheren falls for a business man in Shanghai. Gilbert comes back from Hong Kong and his love for Amy hasn't changed though time has passes...
"This is a very long series but very good and worth watching."
By Lilmissword
Edited by: Allison